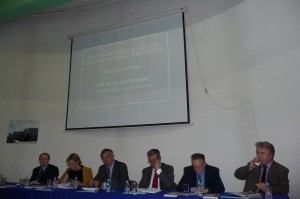 Representatives of Centre Miko Tripalo visited Sarajevo on the 3 and 4 May 2010. The delegation was led by the Centre's President Stjepan Mesić; other members of the delegation were the Assembly President Vesna Pusić, Management Board head Josip Kregar, Management Board member Vinka Tomić Tripalo, Executive Director Vanja Mladineo and Ivan Markešić, editor of the book Croatians in BiH: Constitutional Position, Cultural Development and National Identity. Representatives of the Centre took part in the promotion of the book Croatians in BiH at the Faculty of Philosophy in Sarajevo. Aside from Ivan Markešić, Vesna Pusić and Stjepan Mesić, Dubravko Lovrenović from the Faculty of Philosophy in Sarajevo, Enes Karić, from the Faculty of Islamic Science in Sarajevo and Ljubomir Berberović, vice-president of the ANUBiH also spoke about the book at the promotion in Sarajevo. Representatives of the Centre also met with members of the Presidency of BiH Haris Silajdžić and Željko Komšić and representatives of the Croatian National Council of BiH.
Reactions to the Sarajevo visit
To me and all of my associates, it was a great pleasure to be the host to Centre Miko Tripalo and all of the officials of the Centre. You were able to see how much people here care about meetings like this, how delighted they are and with how much enthusiasm they participate. It gives us hope that everything is not lost, that the cooperation based on truth is possible and that truth is the only real basis for a better future.
-Ivo Komšić, Dean of the Faculty of Philosophy in Sarajevo
We have to first and foremost thank you and we do it gladly in this unassuming way. It would be a pleasure to continue our cooperation and our friendly gatherings, because it is the only true way to build a healthy relationship between Croatia and BiH, in other words between people and nations in these two neighboring countries who are natural allies in doing good and eradicating evil.
-Fra Luka Markešić, president of the Croatian National Council of BiH